Terravida is the farming principals that my partner and I share. We believe in contributing in a positive way to the land that we farm with. We work in partnership with our land, New Jerusalem, to make heirloom and exotic genetics shine from real sunshine, pristine living soil, and sustainability harvested rainwater.
Five years ago, I teamed up with my partner, Kris Schuster, who I met working that very first job in the hills. We dreamed, and still dream, of creating a homestead together. Until this year, we have been tenant farmers without a permanent home. We are very happy to finally say that we have moved our farm for the last time (we have moved farms five times in five years), as we closed on our dream land this last June. This will be the last time we have to start fresh.
The silver lining for us is that we have had a ton of on site experience setting up different farms in different micro climates, and we have learned a lot about what works and what doesn't. We are thrilled to start developing our piece of raw land with permaculture ideas at the heart of what we are building. Our land is the greatest canvas we could ever ask for. Our land is called, "New Jerusalem", after the name the pioneers originally gave this special part of the Mattole River Valley in Humboldt County.
Terravida stands for a set of principals that my partner and I live and farm by. We use regenerative methods and use living native soil. We don't use any synthetic inputs and use only beneficial teas, never pesticides. Our aim is always to make the land we work better off than how we found it. We believe in growing with nature, because nature knows best.
Our brand is an expression of our love for our land, fresh water, pure sunlight, and our gratitude for all that it gives us. Our brand is our promise that we work to protect these things, and we hope you can taste it in our flowers.
What got you into the cannabis industry?
I wanted to live the original American dream: to live free and in charge of my own destiny.
Before I was a farmer, I was working as a graphic designer during the week and a waitress on weekends. I dreamt of living in the country, working in nature, and painting and taking photographs. After a very fateful whirlwind weekend near the Lost Coast, I was hired to work in Humboldt in the Mattole Valley over a decade ago and fell in love with its devastating beauty and culture of freedom. I knew immediately that I wanted to live here and farm and make time to create art.
What are your farming practices?
We use all organic, sustainable and regenerative practices that promote plant immune health and are good for our land and watershed. We feed with compost teas and water, never bottled nutrients. We dry farm as much as possible. We test our native soil in the spring for any possible deficiencies, and amend if necessary. From there, we cover crop and companion plant, and use integrative pest management to treat our gardens preventatively. We also believe that it's important to take time to commune with each and every plant, because they tell you what they need, but if you don't have the time to listen, that's when you find yourself getting into trouble!
Tell us about permaculture and how you apply its principles to your farm.
When I was little, my grandpa (who grew up farming) used to talk about how wrong modern agriculture was, how it wouldn't work and it would poison the earth. Permaculture is a farming model that has the potential to change the world. I love permaculture because it reaches beyond farming practices into the realms of philosophy and the age old question of "How ought we to live?"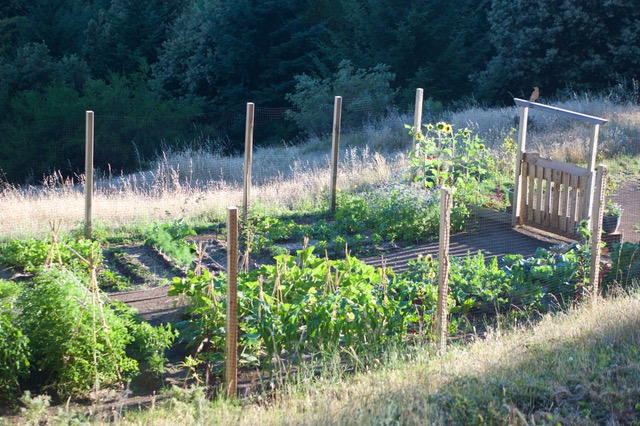 Permaculture teaches us that we must examine not just the effort of building or installing something, but the effort of maintaining it. It teaches us to examine our systems and our life and ask ourselves, "am I setting myself up for servitude or being served?" We humans often want to make things more complicated than they need to be, and studying permaculture helps me untangle my life because it streamlines my farm and teaches me to observe more and plan better.
Our farm will be a work in progress for years to come. This year will be full of mapping, planning, observing and testing. We have installed rainwater catchment systems and are storing water from this monumental wet season for use on our crop during the dry season. We use native living soil and never create nutrient run-off. We hold the health of the watershed in highest regard. We will also be sourcing all of our inputs from our own farm, which reduces our carbon footprint and breaks our reliance on a wasteful and toxic bottled nutrient system.
Cannabis has a chance to be a new model for modern agriculture. We will set the new bar for sustainable practices. Scientists predict that if we continue using modern commercial agricultural techniques, we will run out of topsoil by 2050. We need to lead the regenerative movement.
What do you like about the Emerald Exchange?
The Emerald Exchange is our favorite cannabis event because it is so intimate and elevated! We are used to spending our time in remote hills and secluded farms, so some of the cannabis events out there can feel a bit overwhelming. The people that attend the Emerald Exchange feel like our SoCal tribe, and we love that feeling.
What products will you be featuring at Emerald Exchange 3?
We will be offering tastings of our rosin line and full melt ice water hash, paired with palette cleansers of local organic kombucha brewed in custom flavors for the exchange. We will be selling the very last of our 2g boutique Humboldt Lovegrown Dutch Treat flowers, the last of this year's flower! We are excited to be transitioning from our 2g jars to 1/8 oz jars soon, but we won't have those until after light dep is down.
What are you looking forward to most on March 18th?
I'm just excited to come down and see everybody again! I miss our SoCal tribe! Can't wait to come out of the hills to come soak up the good vibes!